Sam Brownback currently serves as the 46th governor of Kansas. His family roots in Kansas date to the 1860s when his ancestors moved here from Pennsylvania following the Civil War. Born on September 12, 1956 to Robert and Nancy Brownback, he grew up with his sister and two brothers on the family farm near Parker, Kansas in Linn County. His parents still live and work on the farm.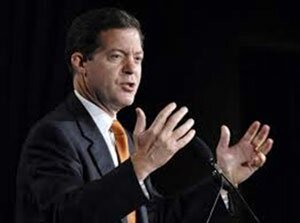 When he was 38, he was elected to the U.S. House of Representatives. In 1996, he was elected to the U.S. Senate seat once held by Bob Dole. In the Senate, Sam pushed for meaningful tax reform and an optional flat tax, a BRAC-like commission to review and terminate failed or completed federal programs, and to build market and consumer based solutions to health care reform. He was a founding member of the Senate Fiscal Watch Team and strongly supports a balanced budget and reform of the earmark and appropriations process.
As governor, Sam is focused on getting the state's economy growing again. Kansas is in its third year of declining revenues. It has forced the state to cut nearly a billion dollars in spending. Despite these efforts, Kansas still faces a $500 million budget shortfall. The only lasting solution to our state's fiscal crisis is sustained economic
growth and new job creation. Getting the nearly 100,000 unemployed Kansans working again and businesses growing will lead to increased revenues, less reliance on government, and funding for core state programs and services.
Governor Brownback is working with Kansas business and community leaders from across the state as well as current and former state legislators to craft policy solutions. His "Road Map for Kansas" is a detailed plan to Grow the State's Economy; Excel in Education; Reform State Government and Protect Kansas Families.
Sam met his wife Mary while they were both in law school. They have been married for 28 years. Sam calls Mary "the glue that holds our family together". They live in Topeka with their five children – Abby, Andy, Liz, Mark and Jenna. After the adoption of Mark and Jenna, the Brownbacks helped establish the Building Families Fund through the Topeka community Foundation. The fund helps Kansas families with adoption expenses.