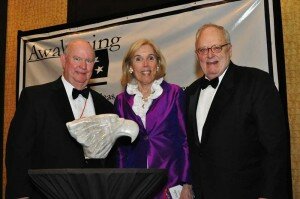 The Awakening Eagle is generously created and given to the recipient of the Great American Award by the renowned sculptor, Anthony Quickle. Tony' sculptures, whose studio is located in St. Simons Island, Georgia, can be found in public, private, & corporate collections around the world. His completed works include bronze portrait busts, larger than life-size monuments, and stone works of all sizes; from highly abstract to detailed realism. We are grateful for the talent and generosity of Mr. Quickle for this magnificent eagle!
www.AnthonyQuickle.com
The 2013 Recipient of the Awakening Great American Award was presented to Edwin J. Feulner, Ph.D. at the Saturday night, black-tie event on March 23rd.
The William L. Amos, Sr. Foundation in 2007 endowed Awakening with a grant to honor William L. Amos, Senior with the naming of an annual Awakening Great American Award. William Amos, Senior was one of the co-founders of AFLAC and the epitome of the American dream created through perseverance, integrity, patriotism and love of family. It is with these characteristics in mind that the following recipients have been chosen.
2007
Edwin "Ed" Meese, III
2008
General Charles " Chuck" Chandler Krulak
2009
Senator Jefferson Beauregard "Jeff" Sessions III
2010
Congressman Thomas Edmunds Price
2011
Dr. James Clayton "Jim" Dobson, Jr.
2012
Senator James Warren "Jim" DeMint
2013
Edwin John "Ed" Feulner, Jr