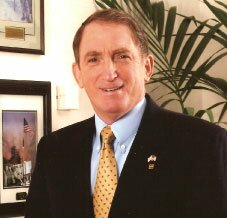 General Charles C. Krulak served 35 years in the U.S. Marine Corps. His last position was as Commandant of the Marine Corps and as a member of the Joint Chiefs of Staff. He commanded a platoon and two rifle companies during two tours of duty in Vietnam and then held a variety of command and staff positions. These included Deputy Director of the White House Military Office, Commanding General, 6th Marine Expeditionary Brigade during Desert Storm, Commanding General, Marine Corps Combat Development Command, and Commanding General, Marine Forces Pacific.
During his military service, General Krulak was awarded the Defense Distinguished Service Medal, the Silver Star Medal, three Bronze Star Medals with Combat "V", two Purple Heart medals, the Meritorious Service Medal, the French Legion d'Honneur Commandeur rank, and many other decorations and medals.
Upon his retirement from the Marine Corps, General Krulak joined MBNA America Bank as Chairman and Chief Executive Officer of MBNA Europe Bank, Ltd. After four years in this position, he returned to the United States and served as Vice Chairman, MBNA America Bank as Head of Corporate Development, Mergers and Acquisitions. General Krulak retired from MBNA in June, 2005.
General Krulak was introduced as the 13th President of Birmingham-Southern College on March 21, 2011, and retired as of June 30, 2015.
In addition, General Krulak currently sits on the Board of Directors of Union Pacific Railroad Corporation. He is an advisor to the Center for Naval Analysis, Human Rights First and a member of the Council on Foreign Relations. He is also a member of the Board of Directors for the Community Foundation of Greater Birmingham and The Altamont School, also in Birmingham.
General Krulak is a graduate of the U.S. Naval Academy and has a Master's Degree in labor relations from George Washington University. He also holds an Honorary Doctorate of Military Science, from Uniformed Services, University of the Health Sciences; and Honorary Doctorates of Humane Letters from both Pace University and Birmingham-Southern College.
General Krulak is an active speaker at various national and local events and has published numerous articles related to Education and Human Trafficking.
General Krulak and his wife of 52 years, Zandi, have two sons and five grandchildren.