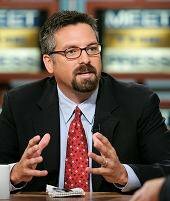 Senior Writer, The Weekly Standard, FOX News Contributor and Author
Stephen F. Hayes is a senior writer at The Weekly Standard and a FOX News contributor, where for six years he has been a regular member of the "FOX News All-Stars" on the network's signature news broadcast, Special Report with Bret Baier, and a key member of Fox's Election Night coverage.
Hayes is the author of two New York Times best sellers: The Connection: How al Qaeda's Collaboration with Saddam Hussein Has Endangered America and Cheney: The Untold Story of America's Most Powerful and Controversial Vice President.
His work has been featured in The Wall Street Journal, The Washington Post, The New York Times, The Los Angeles Times, Reason, National Review and many other publications. Hayes has written extensively about national politics, international affairs and the country's current political leadership.
Hayes broke the news that Mitt Romney was preparing to select Paul Ryan as his running-mate in 2012. Hayes has reported extensively about the 2016 presidential contest from Iowa, New Hampshire, South Carolina and other important early states, and he has questioned each of the competitive GOP presidential candidates. The late Robert Novak called Hayes a "must-read" reporter on politics and national affairs.
His international reporting includes dispatches from Iraq, Afghanistan, Kuwait, Saudi Arabia and Turkey. Hayes was the first to report that the Benghazi talking points had been extensively edited and his investigative reporting on those attacks led syndicated columnist Charles Krauthammer to declare: "If it doesn't win the National Magazine Award, the award ought to be repealed."
Before joining FOX, Hayes was part of CNN's "Best Political Team on Television," which won a "Peabody Award" for its coverage of the 2008 elections. Other media appearances have included: NPR's "Talk of the Nation", Today, Good Morning America, Meet the Press, ABC's This Week, FOX News Sunday, CNN's State of the Union, The O'Reilly Factor, Hannity, The McLaughlin Group, HBO's Real Time with Bill Maher and The Daily Show with Jon Stewart.
Hayes is a native of Wauwatosa, Wisconsin, and a graduate of DePauw University in Greencastle, Indiana. He studied Public Policy at Georgetown University and received his Master of Science degree from Columbia University's Graduate School of Journalism. He previously worked as a senior writer at National Journal's "Hotline" and as director of the Institute on Political Journalism at Georgetown University. He lives near Annapolis, Maryland, with his wife, three children and their golden retriever mix.